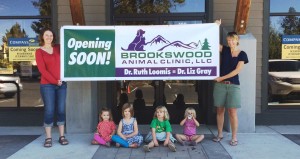 Southwest Bend Neighborhood Center Welcomes Veterinary Clinic and Yoga Studio
Bend, Oregon – Compass Commercial Real Estate Services, the exclusive leasing representative for Brookswood Meadow Plaza is pleased to announce two new tenants opening soon at Southwest Bend's uniquely local neighborhood shopping destination. Brookswood Animal Clinic and ZenBend: Yoga, KungFu, Tai Chi are currently in build-out phases, with plans to open before the end of year.
Located at the corner of Brookswood Boulevard and Amber Meadow Drive, Brookswood Meadow Plaza provides a convenient mix of retail, restaurant and community business services to nearly 10,000 households within a three-mile radius of the center.
Dr. Ruth Loomis has been practicing veterinary services in the Bend community for over eight years and was looking to expand her business in an area that would allow her to continue to provide convenient services to existing clients. Brookswood Meadow Plaza provided the ideal opportunity.
"We're excited to bring our practice to Brookswood Meadow Plaza to provide the neighborhood with convenient access to complete veterinary care," said Dr. Loomis, who plans to open Brookswood Animal Clinic before the holidays.
Brookswood Animal Clinic's new facility incorporates the latest veterinary technology, including state-of-the-art imaging, multiple exam rooms, a client friendly waiting area and a self-serve dog wash area to provide more convenience to the surrounding neighborhood.
Brookswood Meadow Plaza welcomes ZenBend to the community and co-owners Ali McCullough and Stan Whitton who will offer an array of group classes in yoga, martial arts and tai chi.
"After two years of passively looking for a large flex space to accommodate our vision, we toured the area surrounding Brookswood Meadow Plaza and were instantly excited by the possibilities," said McCullough. "We've been so pleased with the experience working with the team at Brookswood Meadow Plaza and we can't wait to open our doors to the neighborhood."
Earlier this year, Compass Commercial helped Cascade Custom Pharmacy locate in the center. The compounding pharmacy is the only one of its kind located within the City of Bend.
"The opening of Cascade Custom Pharmacy at Brookswood Meadow Plaza further distinguishes the location as an exclusive destination for customers that live beyond the immediate neighborhood," said Russell Huntamer, Compass Commercial broker and leasing agent for Brookswood Meadow Plaza.
Contributing to the momentum at the plaza, new owners of recently refreshed River Rim Coffeehouse, re-opened as Hey Joe Coffee Bar to a growing customer base, while 2 Chiros Mission, corrective chiropractic care opened last year and continues to build a thriving client base.  La Rosa, Northwest Crossing's popular Mexican eatery, opened its second restaurant at Brookswood Meadow Plaza and has been thriving in the southwest location since signing a long-term lease two years ago.
Anchored by C.E. Lovejoy's Market, Brookswood Meadow Plaza tenants include Snap Fitness, The Offices@Brookswood, Hey Joe Coffee Bar, Toddles Preschool, Deschutes County Sheriff office, Local Slice Pizza, La Rosa Mexican Kitchen, It's the Touch Plantscapes, 2 Chiros Mission Chiropractic Center, Cascade Custom Pharmacy, ZenBend Yoga and Brookswood Animal Clinic.
"Brookswood Meadow Plaza provides an exclusive opportunity for businesses to lease space surrounded by a great tenant mix at an attractive rate, while neighborhood residents benefit from the convenience of having a diversity of services within in close proximity," noted Huntamer.  "With the addition of Brookswood Animal Clinic and ZenBend, currently only three spaces remain available for lease in sizes ranging from 1,254 square feet up to 3,758 square feet — and they won't last."